Ever taken a shower with one arm because the other one is permanently draped across your chest? If you've been pregnant or nursing, I bet you know exactly what I'm talking about. It's during that time that something that's normally soothing – a nice warm shower – becomes really painful.
But now you can shower with two hands again, thanks to the Shower Hug!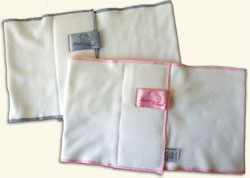 In the shower, the Shower Hug provides support for engorged breasts and protects them from being directly sprayed with water. Pretty cool, eh?
It's super soft and very comfy – so comfy, in fact, that I slept in it! It's a nice alternative to a sleep bra or cami.
The Shower Hug can also be used around a c-section incision or after breast surgery.
I love buying out-of-the-ordinary things for baby showers, especially things the new mom will never know she needs, and this fits the bill perfectly. Best of all, it's made by moms for moms, so go check it out!
For more great items you can't live without, check out Things I Love Thursday at the Diaper Diaries!